Posts for tag: tooth decay
By Upper Valley Dental Center
October 30, 2018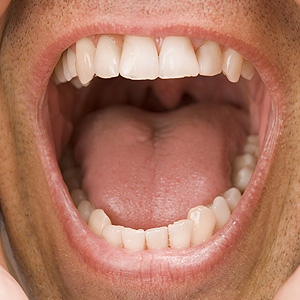 We often don't realize how important something is until it's gone. Like saliva: you're usually not aware that it's cleaning the mouth, neutralizing mouth acid or helping with digestion. But that could change if your saliva flow drops below normal: your health may soon suffer with your mouth taking the brunt.
In particular, reduced saliva flow increases your risk for tooth decay and periodontal (gum) disease. Both diseases are linked to oral bacteria. While many of the myriad strains in the mouth are beneficial, a few bacteria can infect and inflame gum tissues. Bacteria also produce acid, which can soften and erode enamel and make the teeth more susceptible to decay.
Saliva inhibits bacteria in a number of ways. It first clears the mouth of leftover food so not as much stays behind to form bacterial plaque, a thin film of food particles that builds up on teeth. You still need to brush and floss daily to remove plaque, but it's less effective without saliva's cleansing action. Saliva also contains antibodies that destroy disease-causing bacteria and other organisms, which keeps their populations in the mouth low.
One of saliva's most important functions, though, is buffering acid. The mouth's ideal pH level is neutral, but many foods we eat can cause it to become more acidic. Even a slight acidic rise after eating can soften the minerals in enamel. But saliva goes to work immediately and usually restores normal pH within a half hour to an hour. It also aids in re-mineralizing the enamel.
For these reasons, it's important for you to find out the cause of chronic dry mouth and treat it. If it's a side effect of your medication, talk to your doctor about an alternative, or drink more water before and after you take your dose. Certain products can also stimulate saliva flow, like chewing gum with xylitol, an alcohol-based sweetener that has dental health-protecting properties too.
Although you often don't notice this unsung bodily fluid swishing in your mouth, it's important that you take care of it. Keeping your saliva flowing will help ensure better oral health.
If you would like more information on the importance of saliva to health, please contact us or schedule an appointment for a consultation. You can also learn more about this topic by reading the Dear Doctor magazine article "Saliva: How it is used to Diagnose Disease."
By Upper Valley Dental Center
August 31, 2018
Over the last century dentistry has acquired the knowledge, techniques and treatments to prevent or minimize tooth decay. With this enhanced knowledge we've amassed a wealth of data about what increases dental disease development and what prevents it.
This has produced a balanced approach to identifying and treating disease-causing factors and incorporating factors that inhibit tooth decay. Known as Caries Management By Risk Assessment (CAMBRA), this approach first identifies each patient's individual set of risk factors for dental disease and then develops a customized prevention and treatment plan to minimize their risk.
Rather than simply reacting to occurrences of tooth decay — "drill and fill" — CAMBRA anticipates and targets your susceptibility to decay. The primary factors can be represented by the acronym BAD: Bad bacteria, particular strains that produce acid, which at high levels erode enamel and expose the teeth to infection; Absence of saliva, or "dry mouth," an insufficient flow of saliva that can't effectively neutralize acid and restore mineral content to enamel; and Dietary habits too heavy in sugar or acid, which can result in bacterial growth and enamel erosion.
With an accurate picture of your particular risk level we can then apply countering factors from the other side of the balance — those that protect teeth from decay. In this case, we use the acronym SAFE: stimulating Saliva flow when needed or applying Sealants on chewing surfaces most susceptible to decay; Antimicrobials that reduce unhealthy bacteria levels and give healthy bacteria an opportunity to thrive; incorporating Fluoride, a chemical known to strengthen enamel, through hygiene products or direct application to the teeth; and an Effective diet, low in sugar and acid and high in fresh fruits, vegetables and whole grains.
There are a number of preventive and treatment measures that fall into each of the four preventive factors. Using the CAMBRA approach we can develop a treatment and prevention plan that incorporates measures that uniquely fit your dental health situation. With such a plan we can greatly reduce your risk of disease development and impact and better ensure a long and healthy life for your teeth and gums.
If you would like more information on managing dental disease prevention, please contact us or schedule an appointment for a consultation. You can also learn more about this topic by reading the Dear Doctor magazine article "Tooth Decay: How to Assess Your Risk."
By Upper Valley Dental Center
May 12, 2018
When your baby's first teeth come in, you might not think it necessary yet to worry about tooth decay. But even infants can develop this common dental disease. In fact, it has a specific name in children 6 and under: early childhood caries (ECC).
About one-fourth of U.S. children have ECC, and poor or minority children are at highest risk. Because of primary ("baby") teeth's thin enamel layer, ECC can spread to healthier teeth with unnerving speed, causing extensive damage.
While such damage immediately affects a child's nutrition, speech development and self-esteem, it could also impact their future oral health. Permanent teeth often erupt out of position because of missing primary teeth lost prematurely, creating a poor bite. And children with ECC are more likely to have cavities in their future permanent teeth.
While there are a number of effective treatments for repairing ECC-caused damage, it's best to try to prevent it before damage occurs. A large part of prevention depends on you. You should, for example, begin oral hygiene even before teeth come in by wiping their gums with a clean, damp cloth after feeding. After teeth appear, switch to daily brushing with just a smear of toothpaste.
Because refined sugar is a primary food source for decay-causing bacteria, you should limit it in their diet. In the same vein, avoid sleep-time bottles with fluids like juices, milk or formula. As they grow older, make sure snacks are also low in sugar.
You should also avoid spreading your own oral bacteria to your baby. In this regard, don't put their eating utensils or pacifier in your mouth and don't drink from the same cup. Avoid kissing your baby on the lips. And above all, take care of your own oral health to prevent your own encounter with dental disease.
Finally, start regular dental visits on or before your baby's first birthday. Regular cleanings and checkups increase the chances for early decay detection, as well as provide for treatments and prevention measures that can reduce the disease's spread and destruction.
ECC can be devastating to both your baby's current and future dental health. But with vigilance and good dental practices, you may be able to help them avoid this serious disease.
If you would like more information on tooth decay prevention in young children, please contact us or schedule an appointment for a consultation.